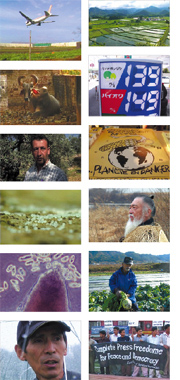 Peace rooted on soil
While food and agriculture is shakey the world over with the food price hike and by the tightening of free trade grip on agriculture, traditional agricultures developed and nurtured thru each regional climate and socio-economic conditions are now on the verge of collapse.
Farmers are being removed from their farmland and water resources by the onslaught of huge industrial agriculture that require heavy use of chemicals, pesticides and gene altered seeds.
So much the reality is threatening that the call for organic agriculture is growing ever greater. Amid the food crisis in April 2008, the international institution called "International Assessment of Agricultural Knowledge, Science and Technology for Development(IAASTD) " formed by UN agency, national governments, NGOs, and private corporations announced that the small scale organic farming is the way for 21st century for food production to ensure protection of society, economy and environment.
Every individual on this planet has right to live in peace and with dignity.
This right to reproduce themselves is not for humans alone but for all living creatures on this planet. Organic agriculture is the peaceful culmination of this right of existence.
The International Film Festival on Organic Farming(IFOF) was first held in November 2007 with support from many individuals and organizations. We hold IFOF 2008 with "Peace rooted on soil" as a theme in hope of rebuilding healthy farming and eating practices so that all living creatures can live in peace together.
Video Letter(Japanese)
Greeting from Executive Chief OHNO Kazuoki can be seen;
3min 7sec, 11.8MB
>> YouTube