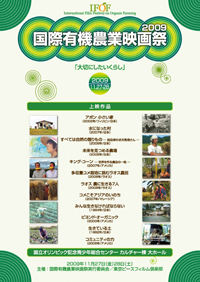 Date : November 27(Fri) & 28(Sat), 2009

Place : Large Hall, Arts Building in Natinal Olympics Memorial Youth Center, Tokyo, Japan
Time :

27(Fri)  12:00〜20:00 ( Open at 11:30 )
28(Sat)  9:30〜21:00 ( Open at 9:10 )

Subscription:

27(Fri)     ¥1500.00
28(Sat)     ¥2000.00
2 days ticket ¥3000.00

Hosted by :

International Film Festival on Organic Farming Executive Committee/
Tokyo Peace Film Club

Collaborator :

Japan Organic Agriculture Association/
Pacific Asia Resource Centre(PARC)

Registration and Obtaining Ticket

For obtaining ticket and participating IFOF, please register with the following information.
Your Name, Address with postal code, phone number
Purchasing Ticket: Contact us by E-mail( ticket@yuki-eiga.com ) by the end of October. When your registration is completed and ticket fee is remitted, a ticket will be sent to the address you registered.
Registration will start from 1st of September.
Special Event 1: 28(Sat) 14:20 – 15:30

Special Talk on "What is on Asian Villages now"

There are 3 films depicting Asian farmers' fight against globalization. Two among them were from Laos by chance. Visiting students of Organic Agriculture at

Asian Rural Institute (ARI)

situated at Nasu-Shiobara shi, Tochigi,

Mr.Houmphan

from Laos and

Ms.Polkhayan

from Thai will talk on the backgrounds and situations in Laos and Northeast Thai.



Special Event 2 : 27(Fri) 19:30 – 20:00

New farmers talk:"the life I value most"

With a special reference to the film

"A Farm with Future Vision"

, we will have 3 new organic farmers to talk about their view on life they value most. There will be a casual talk after their presentation.



Special Event 3: 27(Fri) 16:00 – 16:50

3 min. video show: "My view of food and farming"

This gives chance to go one step forward from "just watch" to "make and show"for you. It is our wish that more people will take part in IFOF thru making videos and films for 3min. video show. Your entry of 3 min. video on food and farming is most welcome.