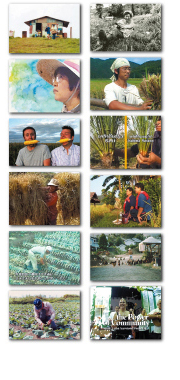 The life I value most
We are happy and grateful to announce that your support has made it possible to hold the 3rd IFOF. The last two years' IFOF have been accepted and welcomed with high regard by both old and young.
Members of Steering Committee have also found the depth and the scope organic agriculture has and are deeply impressed by its implication that organic agriculture is not just how-to of farming but is a wholistic concept which enfolds how we should grasp the nature, how we are to live with forest, water, soil and all the creatures that live on our planet.
We have focused our effort on these vast and deep aspects of organic agriculture to be expressed in the program of the IFOF 2009.
During the last tow decades, the earth and our lives underwent decay and segmentation by an idea and system that is all too simple and cold, the winner or the loser in a competitive world of economy.
Under the pressure of this modern competitive world, we are trying to rediscover and redo our relationship with nature and also to re-establish relationship among us humans.
We would be gratified if everyone of our friends would come to IFOF 2009 and find in the selected films such possibilities organic agriculture have.
We have also provided a chance to participate in the film festival for those who wish to express views on nature, farming and food with 3 minutes video works.
Please drop in at the film festival and feel and enjoy the organic world.

 August 2009
 Executive Chief OHNO Kazuoki