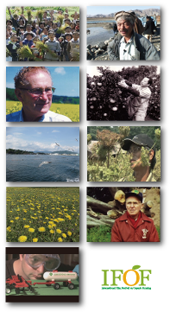 Seed, Water, Life
It is already the fourth IFOF this year! We are very happy to have so many audiences every year who enjoy the program. We are grateful to those who have supported and collaborated with us.
The fourth IFOF is going to be held on November 27, Saturday, under the theme; SEEDS, WATER and LIFE, this year. We have set this theme in order to express our idea throughout the film festival that ORGANIC FARMING is a kind of activity to sustain the foundation of every life on the earth! It is our belief that agriculture itself, as well as organic farming, has this instinct basic character.
Farming exists with the following two relationships; HUMAN to NATURE and HUMAN to HUMAN relationships. Human beings started the farming activities by feeling the nature with our whole body, influence or being influenced by the nature, and by utilizing the power of nature through our relationships with the nature. Our activities to recreate our lives are, at the same time, the activities to recreate the nature. Such a kind of relationships we have been keeping with the nature. In another word, we can call it a "living-together relationship" with nature.
Upon this co-existence, there is an overlapping of human to human relations, which create the "World of Farming"! Farming can not be continued by one person. Farming activity is supported by the collaboration of those who once lived there and those who are living there.
However, the real world today where competition and the efficiency are the top priorities, has been established by destroying these coexistence and collaboration. We have been involved in this project with the hope to feel and create "Another alternative world" which would replace present real world through showing movies on various aspects of organic farming.
Also, we are inviting your participation in presenting three-minutes video on the theme of nature, farming or food issues.
We sincerely hope to send our message from "The World of Farming" together with you who wish to join our movement by coming to the festival and support us in various forms, or by starting similar movie show in various places!

September 2010
Executive Chief OHNO Kazuoki