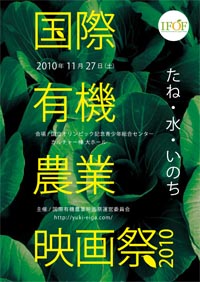 Date : November 27(Sat), 2010



Place : Large Hall, Arts Building in Natinal Olympics Memorial Youth Center, Tokyo, Japan


Time : 9:00〜22:20 ( Open at 9:00 )


Subscription:

Young ¥1500 (Less than 25 years old)
Adult ¥2000



Hosted by :

International Film Festival on Organic Farming Executive Committee



Collaborator :


Registration and Obtaining Ticket

For obtaining ticket and participating IFOF, please register with the following information.
Your Name, Age, Address with postal code, phone number
Purchasing Ticket: Contact us by E-mail ( ticket@yuki-eiga.com ) by the end of October. When your registration is completed and ticket fee is remitted, a ticket will be sent to the address you registered.
Registration will start from 1st of September.